6 Virtual Event Marketing Strategy Must-Haves Guaranteed to Increase Registrations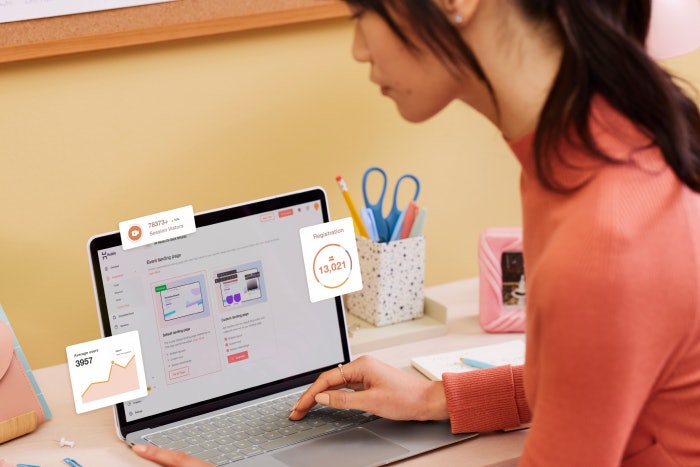 Like any in-person event, virtual events require a marketing strategy behind them to get the word out to the right people and help drive registration. However, a key difference between IRL and online events – besides the obvious – is that virtual events often require even greater and more strategic marketing efforts than live events to combat the loud and distracting nature of Internet.
Don't be discouraged! Virtual events are always a coveted experience and with the constant innovation of features offered by the best event platforms, online gatherings truly have the ability to immerse attendees for an event they won't soon forget. .
So how do you start crafting an effective virtual event marketing strategy? Keep reading for six must-haves for your marketing plan.
1. Optimize the event website or landing page.
As a potential attendee's first interaction with your event, the website or landing page needs to be in tip-top shape to attract and, most importantly, convert attendees. The key to an optimized landing page is two-fold: making sure the experience is seamless and simple for the user, and making sure everything from the headline to the call-to-action focuses on a conversion goal.
While you want to use a website or landing page to tell the story of your event and highlight the main selling points, you should also be careful not to overcomplicate the content or include elements that are not irrelevant to the participant. at present. Remember: you can always use post-registration email marketing to learn more about the event and get them excited before the event.
It is important to first determine the key elements that will make a potential attendee so excited that they will sign up for the event. This could look like teasers, a preview of the list of speakers, or relevant guest testimonials and photos from past events.
A quality website or event landing page, however, can be wasted if the registration experience isn't smooth and simple. When reviewing the webpage before launching it, check that the registration process is both easy to find and easy to complete.
For more inspiration and ideas for creating an outstanding website, check out events like Coachella, Google I/O, and Dreamforce; click here for event landing page inspiration from the best virtual and hybrid event platform Hubilo.
2. Use email marketing to increase traffic.
As planners well know, just because 5,000 attendees register for an event doesn't mean all 5,000 will attend. Unfortunately, dropout rates are just as common for virtual experiences, but creating personalized digital touchpoints and keeping your registrants excited about the event with an email outreach campaign can help reduce this dropout rate and increase attendance.
One of the biggest mistakes you can make as a virtual event planner or marketer is letting the registration confirmation email be the last communication you have with the attendee until the day of the event ! Without flooding their inbox (be strategic in your email marketing strategy!), stay in touch with your email registrants by revealing exclusive offers, reminding them of important event-related dates and sharing additional information about speakers, sessions, competitions and the Like.
Email drip campaigns are also a great opportunity to start collecting data-driven insights about your attendees to help curate a more personalized event experience for them. Click here to learn more about the most important virtual event metrics to collect, and how you can put this data to good use. Oh, and if you need a great tool to craft your event emails, Hubilo has a new email marketing tool you might want to try.
3. Harness the power of social media marketing.
Organic social media is a great tool for event storytelling and global awareness. If your event is annual or recurring, this is also a great platform to keep in touch with your audience after the event. If you have the budget for it, a paid social media marketing campaign can be even more beneficial as it allows you to target your specific audience.
However, not every platform is a perfect fit for your event, so start by digging into some of your attendee data and select a platform where your key audience spends most of their time. Focus your energy there on social media, then use other platforms to reuse content and take advantage of their functionality (think Instagram stories, Facebook page, LinkedIn posts, etc.).
Some event platforms can even integrate with third-party social media apps to make it easier for you to keep up with all the content you have on the move. Virtual and hybrid event platform Hubilo, for example, can connect to social media aggregator Walls.io. Click here for more tips and tricks to increase social media engagement for your event.
4. Introduce relevant media or independent journalists to increase the visibility of the event.
As the saying goes, "the pen is mightier than the sword". Translation: Don't discount the credibility and strength of good press. Media coverage before and after the event can do wonders for increasing attendance, so start by curating a list of major media outlets or independent journalists who tap into your key audience and whose stamp of approval for your event could help boost registration.
Optimize your pitch for each outlet or writer, explaining why it's important to their platform's audience, in particular, and offer them something in return for coverage, like a free ticket code for themselves or a discounted code for readers. Bonus tip: Reinforce your pitch by including a live press release from your event.
5. Leverage ads.
While word of mouth may have been what event planners and marketers had to rely on a few decades ago, digital advertising technology has completely changed the game, so use it! And don't be afraid to experiment with different types of ads (display, text, and creative) and platforms to better understand what works best to capture your audience.
All ads should be consistent and tell the same story as your website/landing page and organic social media, but on a condensed and more targeted scale, of course. For example, you can use ads to feature high-profile speakers and highlight important sessions. Even better: you can even use retargeting ads for users who didn't convert after their first interaction with your ad, improving your chances of converting them to attendees.
6. Partner with relevant affiliates and influencers.
Another form of advertising is partnering with key opinion leaders who have access to your audience to drive event registration. Affiliate and influencer relationships are generally like a flat commission, but it's up to you and the thought leader to figure out which deal works best for both of you. How do you secure these types of partnerships? Just like what it takes to get media coverage, it starts with reaching out!
Looking for more virtual event marketing inspiration and ideas? Check out these resources from Hubilo:
● Top 5 Events of 2021 to Inspire Your Virtual Events in 2022
● Lessons learned on the road to innovation in hybrid events
Click here to see how the Hubilo virtual and hybrid event platform can take your digital experiences to new heights with cutting-edge event technology.